Golden Amber Honey
Summer Honey Harvest
Almost gone!
Click HERE to pick up a
bottle 8AM-6PM from the
HONEY TABLE
Being very particular on only harvesting the very best honey the bees can produce, I don't get a lot of honey, but certainly harvest much more than I can personally use.  My local Naples apiary's delicious Wildflower honey contains all the pollen, nutrients, antioxidants, and antibacterial properties. Honey simply doesn't get any better than such local raw honey!
Pick up a bottle 8AM-6PM from the "honey table" .

Backyard Beekeeping in Naples, Florida…


NaplesBees Apiary is a backyard apiary located in the Naples, Florida area. Managing bees in Southwest Florida is exhilarating and, with a little effort, one can harvest honey and wax. I became addicted to the fascinating hobby of backyard beekeeping and have successfully harvested many pounds of honey and wax over the years. Along the way I learned and continue to learn new things about beekeeping. My goal with this web site is to showcase what hobby beekeeping is and maybe generate an interest to get started yourself so that it may help you enjoy something truly special and rewarding. It can surely be said beekeeping is as much an "art" as it is a science!! I hope you enjoy reading on this web site about some of my Naples area beekeeping adventures!

Did you know?……. It takes a almost 3 million flower visits for the bees to make a pound of honey.  The honey bee is the only insect on earth that produces food eaten by man and honey is the only food on earth that does not naturally spoil. A hive will try to maintain its internal temperature in the mid 90's regardless of the outside temperature….. nature's natural thermostat if you like it hot !!

Certificate of Beekeeping Registration for this beekeeper and this apiary is current with the Florida Department of Agriculture as required under Florida statute 586 , and live bee removal authorized under Florida rule 5E-14.151, F.A.C. . I am a member of the Beekeepers Association of Southwest Florida , Bee Boyz and Girlz, and a Vietnam era U.S. Army veteran.  and…. always remember…  Don't be afraid, America!


Buyer Beware…..Did you know that most store bought honey is probably not real honey or is diluted with non honey additives?  Honey fraud is a big big problem in the world, especially being caused by China.  If you want the real honey buy it from a local area beekeeper or you'll get this!  Read about our honey here.


 

NaplesBees Apiary – Latest Activity Details:
10/16/2022 – The NaplesBees apiary hives survived hurricane Ian.  A lot of the surrounding vegetation was stripped by the high winds, so the bees' nectar and pollen may be in short supply for them for a while.  But nature is resilient and life goes on.

6/28/2022 – We did our first honey harvest of the year and the honey is a medium dark amber color which is typical for us this time or year.  Get a bottle of this delicious and healthful honey here .  There was a nice newspaper article appearing about SWFL backyard beekeeping and the honey harvest here .

3/30/2022 – Removals and swarms are again starting the season off as very active here.
11/4/2021 – We did our second honey harvest of the year and it was a good size harvest.

9/1/2021 – There has been a lot of apiary bee activity in the last few months. The NaplesBees apiary is at 23 strong hives, which is the capacity here for space/time/energy!! Bees Boyz and Girlz now has a new "holding" apiary for hives that need a home and can't be kept here. The goal is to have a temporary place for hives with the intent for them to become a source for existing or future area backyard beekeepers.

6/11/2021 – We did our first honey harvest of the year.

4/12/2021 – Removals and swarms are starting the season off as very active here.
3/23/2021 – A limited number of established hives are for sale here.
11/13/2020 – We did our second honey harvest of the year.

8/7/2020 – We did a FUN removal of a large hive with the help of 4 young beekeepers. See pictures here.
7/2/2020 – We did our first honey harvest of the year.

6/27/2020 – The Bee Boyz and Girlz group did a live removal from a North Naples house roof.  See details and pictures here.
6/1/2020 – Bee Boyz and Girlz get together group formed.

5/19/2020 – Short time lapse video showing a NaplesBees hive's bees working together on getting rid of a rubberband used to hold comb sections in place! They work it to the edge and then it quickly falls off as bees gather their weight on the dangling end.

4/17/2020 – NaplesBees apiary is getting busy fast! Populations are growing as many nurse bees transition to become foraging bees. Watch full screen!

4/12/2020 – Easter Sunday morning swarm removal video here.
3/11/2020 – A very large hive was removed. See details and pictures here.
3/3/2020 – A very small hive was removed from a cypress tree. See details and pictures here.
2/21/2020 – A difficult but successful removal from a street Comcast box. See details and pictures here.
1/2/2020 – A small swarm on a tree trunk was removed. See a picture here.
1/2/2020 – A beekeeping friend in Marco Island is keeping hives in a creative way at his waterfront house located on a canal.  Notice in the right picture a couple hives with little weathervanes!

 11/7/2019 – We did our  third honey harvest of the year. Eight of the hives had a significant amount of fall season capped honey.  It is delicious and a beautiful rich light amber color.
10/19/2019 – Bees hanging out on a rainy cloudy day.  The foraging bees on the bigger hives are staying put today and "beard" up on the outside of the hive box.  If they all went inside,  the hive would overheat so they spend time taking turns outside and getting wet. 


8/26/2019 – We found a couple huge cane toads in the apiary today. They were apparently catching the occasional bee that flew too close..
7/30/2019 – We did our second honey harvest of the year.  As shown in the short video below, care is taken to harvest the absolute best honey which is only "capped" honey …. the honey that has been fully processed by the bees.
7/14/2019 – Getting close to doing another honey harvest. BeeCams show busy July mornings for most of the hives…. visit our LIVE BeeCam page to see what's happening right now in the NaplesBees apiary.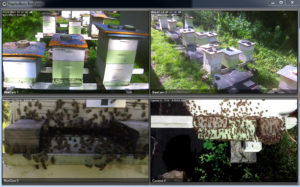 .
6/17, 6/18, 6/19, /2019 – Busy with hive removal activities. See picture details of these removals from a trash can, a copper planter bin and a water meter here.
.
4/1, 5/28, 6/8, 6/12, /2019 – Busy with hive removal activities. See picture details of these removals from a boat, water meters, and a shed here.
.
4/9/2019 – NaplesBees.com donated a "honey basket" to the annual dinner of the Genealogical Society of Collier County .
4/6/2019 – NaplesBees.com had a table at the Collier County Mosquito Control open house at the Naples Airport. The observation hive sparked a lot of conversation about bees and hobby beekeeping!

3/30/2019 – A hive from an oversize water meter was removed. See a picture here.
3/6/2019 – The first honey harvest of the year was done today. This was a little early in the season, but the bees have been very active and a small harvest of 141 pounds was available and put in to one pound and 8oz bottles. Over 7 pounds of wax was collected.  Click here to see a short video on how the bees clean up any residual honey from the collected wax comb.

2/2/2019 – There has been a third BeeCam added to the network.  This BeeCam number 3 is an experimental camera setup to show a closeup of the entrance of an active hive.  What is particularly interesting is an observation of the color and amount of the pollen that is being brought back to the hive.  This activity is always a good indication of the health of the hive.
1/22/2019 – We have had some very cool nights (in upper 40s) and I took advantage of a warm afternoon to take a quick look at all 20 hives.  All the hives looked full of active bees with the frames in the supers mostly covered with bees.  This is a very good sign and shows, so far, the hives are remaining strong going in to the colder months.  Many hives have a couple supers of capped honey which the bees don't seem to have touched yet.  I am a happy beekeeper!!

1/2/2019 – A quick look at some of the hives showed all to be in good shape. All the hives have been fairly active at the entrances with the relatively warm weather we have been having.
12/6/2018 – An inspection of the hives in the apiary showed all hives to be active.  I estimate there is several hundred pounds of capped honey frames, but that will be left for now in case we get significant cold weather and the bees then might have a need for it.
11/14/2018 – A hive high up in a tree near a guest house was removed.   See a few pictures here.
11/6/2018 – Looking to get in to Naples area backyard beekeeping?  Check out what NaplesBees can offer here.
10/14/2018 – Large hive removed from a tree behind the NaplesBees apiary and placed in our apiary.   See a few pictures and video here.
9/26/2018 – Swarm traps full of bees!  More details here .

8/24/2018 – The NaplesBees apiary hives are exploding in numbers.  See a few pictures and video here.
7/23/2018 – Today started with a visit from the Florida District 14 Apiary Inspector.  Hives in the apiary were inspected for compliance with the Florida regulations for apiaries in the state. 
7/11/2018 – I completed the second honey harvest for the year.  I was able to harvest from about 7 of the larger hives and the result was 275 pounds of honey.

7/3/2018 – Bees in a bird house were removed from an East Naples location here.
6/26/2018 – A small hive was removed from a water meter box here .
5/4/2018 – I completed the first honey harvest of the year. This harvest resulted in about 305 pounds of honey which ended up in 1 pound, 12oz, and 8oz bottles. This is the biggest harvest I have every had and could not have been done without the use of the motorized honeycomb press I had made.
4/28/2018 – The NaplesBees table at the Collier Mosquito Control District open house was a good success with lots of interest in the observation hive. The queen was found (with help) many times as she was observed busy laying eggs.

4/6/2018 – A second BeeCam was brought online today. It gives a overhead and more complete view of the apiary. Check it out on the BeeCam page.
4/3/2018 — Bad news and good news…. A few weeks ago I noticed several of our recent hive removal boxes (3/15/2018 and 3/2/2018) were queenless and nad no brood. To save these colonies, we tried introducing a few mature queen cells in to each of these hives. They apparently successfully hatched and the queens have been accepted because today's inspection found a queen running around in each hive. Hopefully these queens will survive going forward and grow the hives.
3/15/2018 — A swarm removed from a cypress tree branch here.
3/3/2018 — A homemade observation hive has been built here.
3/2/2018 — A large hive was removed from a house outside wall here.
1/26/2018 — A large hive was removed from a shed wall here.

1/2/2018 — Cooler temperatures have forced the bees into a low activity mode. Relatively few bees are venturing out for foraging.

Click here for Older News from previous years
Below is a recent view of the NaplesBees apiary
July, 2018
(click on the picture for larger view)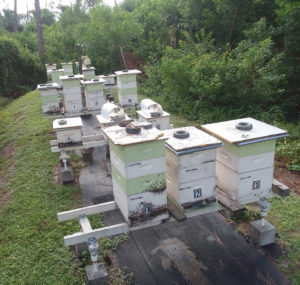 some hive entrances face east and some face west
–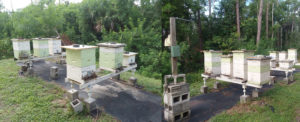 view looking left and right from the BeeCam1 stand